Welcome to OCD Associates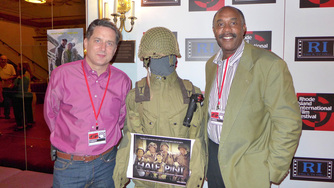 Original Concept & Development Associates, LLC is an award-winning team of broadcast television professionals who create exceptional creative programming for the entire spectrum of media. OCD was founded by producer Andre Stark and writer Duncan Putney to take their original ideas from their imaginations, onto the page, then into production and on to the screen. Currently our specialized content can be seen everywhere from the television screen to the computer screen. We dedicate ourselves to producing thought-provoking, intelligent and entertaining material from concept to delivery. We welcome you to see just how exciting media can be.
In addition to our more commercial work, OCD has developed our original concepts for the non-profit sector including the Emmy Award winning 7DAYPSA competitions and the Children's Hospitals International Film Festival for FLICKERS and the "Spotlight on Rhode Island Screenwriting Competition" for the Rhode Island State Film & TV Office
and
R.I.I.F.F.
NEWS:
JUNE 2017:
June 1st
: The
Boston 7
DAY
PSA
awards evening was held at the WCVB-TV 5 Studios. Thank you to Cape Ann Brewing Company for being our hospitality sponsor again this year.
June 2nd
: "
Half Pint
" was screened at the 2017
Normandie-WWII Film Festival
's opening night red carpet event.
June 4th:
There had a stage reading of Duncan's "
The Karma of Bocce
" short play as part of the
From Scratch
series at PVD Fest at AS220.
APR 2017: The
Boston 7
DAY
PSA
had its premiere event for the
Children's Hospitals International Film Festival
at
Boston Children's Hospital
in association with
Seacrest Studios
.
Both filming and editing have begun on our "
Macy's Goes to War
" short film project.
MAR 2017:
"Half Pint"
has been selected for the
2017 Normandie-WWII Film Festival
in Normandy, France in June. This is the inaugural festival event created by Tim Gray and the World War II Foundation.
Half Pint will show at 10:30 pm at the June 2nd opening night red carpet screening event at the Normandy Beach Museum.
FEB 2017: OCD's
Andre Stark
received the
Producer's Circle Award
from
FLICKERS: Rhode Island International Film Festival
at their Oscar Night Gala for his work on the
7
DAY
PSA
Competitions
and the
Children's Hospitals International Film Festival.
NOV 2016: OCD continues its relationship with
FLICKERS
taking a concept for a new kind of children's film festival that we created and making it a reality for their Rhode Island International Film Festival brand. The
Chidren's Hospital International Film Festival
will premier at Boston Children's Hospital in April of 2017 in partnership with
Seacrest Studios
before moving on to children's hospitals across the country.
AUG 2016: OCD principals Andre Stark & Duncan Putney attended the opening night gala for the


Rhode Island International Film Festival


. In addition, OCD also participated as judges for short films, and as panelists for the
FILM FORUM
and
Script Biz
. Truly one of the best film festivals in the northeast.
The mystery novella "
POCKET CHANGE
" written by Creative Producer Duncan Putney received a nomination for a New Hampshire Literary Award. We think it would make a great movie of the week or TV pilot. (
Currently available on Amazon.com as an e-book and as an audio book
at Audible.com).
Creative Producer, Duncan Putney, was interviewed on the RI PBS show "
Double Feature
" about creating the
7
DAY
PSA
Filmmaker challenge with Andre Stark, and about OCD's "
Half Pint
" project.
31 October 2015: Duncan's feature horror script, "ROGUE ISLAND," is the Grand Prize Winner in the 2015 Rhode Island International Film Festival's Spotlight on New England Screenwriting Competition.
The competition is sponsored by FLICKERS (aka RIIFF) and the Rhode Island State Office of Film & Television.
(RIIFF is a qualifying film festival for both the Academy Awards and for the British Academy Awards.
)
30 April 2015: We are pleased to announce that the 2014 "
RIIFF Around the World
," PSA campaign for the
FLICKERS
that OCD created and developed the concept for has been nominated for a
New England Emmy Award
. Congratulations to the staff at Flickers and RIIFF.
6 June 2014:
HALF PINT
accompanied the
US WW II Airborne Demonstration Team
to France for educational outreach as they jumped out of a C-47 over Normandy for the 70th anniversary of D-Day. Back in the states the film will be screened at the
Utah Beach Museum
(France), the
Wright Museum of WW II
(NH), the
Museum of Work and Culture
(RI), the
New England Air Museum
(CT), the
Commemorative Air Force Museum
(TX), and others across the country. Even the Obama family has a copy to view at the White House.
30 April 2014: OCD's short film/TV pilot,
HALF PINT
, wins a
Van Gogh Award
for
Best Short Film Screenplay
at the
2014 Amsterdam Film Festival
.
---