Welcome to OCD Associates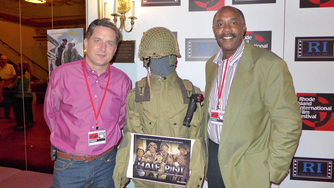 Original Concept Development Associates is an award-winning team of broadcast television professionals who create exceptional creative programming for the entire spectrum of media. OCD was founded by producer Andre Stark and writer Duncan Putney to take their original ideas from the imagination onto the page then into production and on to the screen. Currently our specialized content can be seen everywhere from the television screen to the computer screen. We dedicate ourselves to producing thought-provoking, intelligent and entertaining material from concept to delivery. We welcome you to see just how exciting media can be.

In addition to our more commercial work, OCD has developed our original concepts for the non-profit sector including the Emmy Award winning 7DAYPSA competitions for FLICKERS and the "Spotlight on Rhode Island Screenwriting Competition" for the Rhode Island State Film & TV Office and R.I.I.F.F. We are currently developing a new kind of children's film festival for FLICKERS that will debut nationally in 2014.

NEWS:
4 Dec. 2013: Scenes from "HALF PINT" are included in location highlights reel of the Massachusetts Production Coalition (MPC) December meeting in Boston.

16 Nov. 2013: Roman Media wraps principal photography on "THE LESSON," co-produced by OCD.

30 Sept. 2013: Duncan Putney takes third place for "STORM WINDOWS" in the Dixie Kane Memorial Writing Competition for the unpublished inspirational romance category. We think the story would make a wonderful movie or TV series pilot.

---